IOTA Exchanges
IOTA is an open-source cryptocurrency and distributed ledger that stores transactions with the use of an acrylic graph. As a cryptocurrency, the technology it is based upon means that it may have high scalability compared to blockchain-based currencies, such as Bitcoin.
In theory, this technology makes IOTA more secure, more difficult to hack, and overall more stable as a cryptocurrency. It is considered to be future-proof; IOTA is scalable and can handle vast amounts of data at once while maintaining security.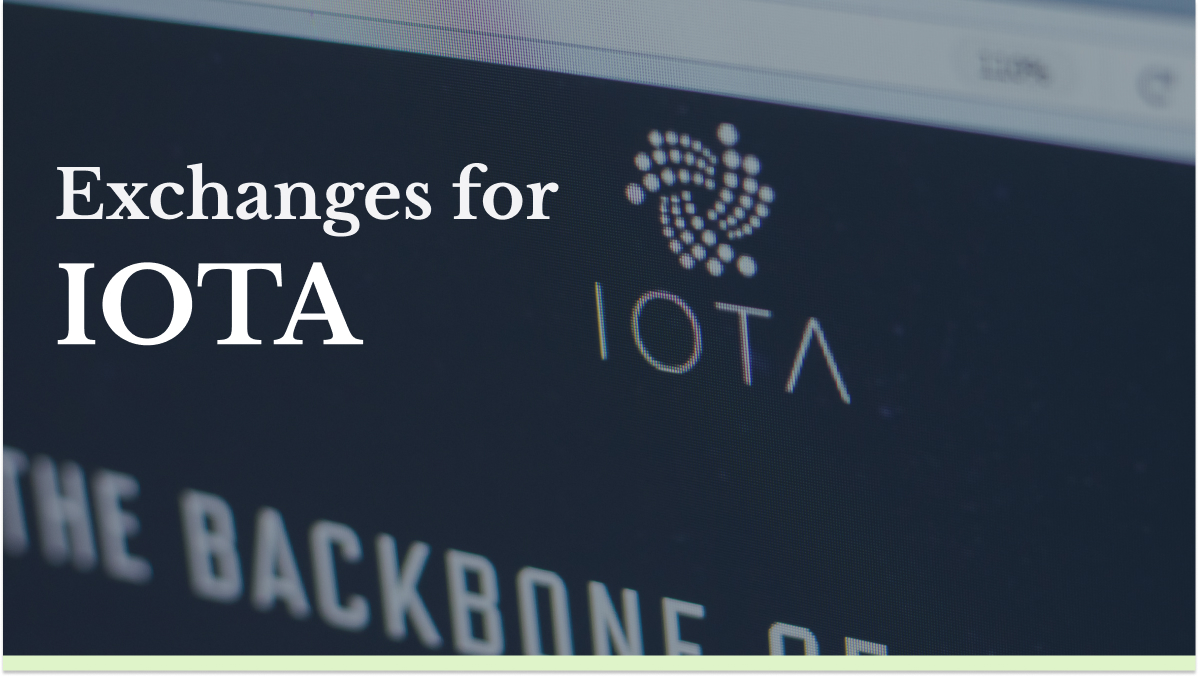 Recently IOTA has seen an increase in its market price. IOTA analysis has shown that the market increase has been as significant as 33% within a 24-hour period. This kind of increase has novice traders and professionals alike keeping a close eye on this up-and-coming coin.
Potential traders may be wondering what exchanges sell IOTA while it is still new and hot. This article will cover six different IOTA exchanges. Many of the exchanges listed also offer options outside of IOTA, including a wide variety of other cryptocurrencies, forex, commodities, and stocks.
Custodial Exchanges
Before we get into the separate exchanges, we need a brief note on custodial exchanges. All of the exchanges on this list are considered custodial exchanges. In layman's terms, that means that the exchange is in charge of the actual trading. You load your exchange account with money, and you use that money to tell them what trades to make. You won't control your own wallet or private keys. Exchanges may add or delist tokens without warning, so you'll need to be careful.
Also, if the exchange is compromised in some way, you may find yourself unable to withdraw your assets. For this reason, it is generally recommended that you keep your coins in a separate wallet off of an exchange for long-term storage. With a private wallet, you maintain complete control, and your coins will be much more secure.
StormGain
StormGain is an all-in-one platform for all of your crypto needs. They are a secure and convenient place to act as your crypto exchange, trading signals, and wallets.
They act as an exchange for IOTA along with several other popular cryptocurrencies, including Bitcoin, Ethereum, and Cardano.
StormGain prides itself on being the only place you need to go for your cryptocurrency, and they are recognized by several financial organizations for their secure platform. Within the Financial Commission, Stormgain is a member of the Blockchain Association. CoinMarketCap named StormGain as one of the best crypto exchanges.
For those wanting to day trade with IOTA, StormGain makes it very easy and affordable to make your trades at the click of a button. Their mobile app has all the tools you need to make trades quickly and from wherever you may be. Additionally, they offer some of the lowest commission fees available on an exchange.
To help you make the best trades even further, StormGain offers a loyalty program to its clients that come with some great perks. These perks include a bonus of up to 20% every time you make a deposit and up to 20% discounts on any commissions, whether it be for trading or exchange.
If you happen to have your crypto wallet through StormGain as well, the loyalty program offers up to 12% for an interest rate on all crypto that you have stored in your wallet. They also have a refer-a-friend program. If you bring a friend to the platform, you can earn up to 15% on their brokerage fees.
Lastly, StormGain has a cloud mining option that lets you mine Bitcoin without investing in powerful computers. Their cloud mining tool works directly on their app, and it works fast without having to drain your battery in the process—all you need to do is open the app and start mining every four hours. The Bitcoin you mine can later be traded on the exchange.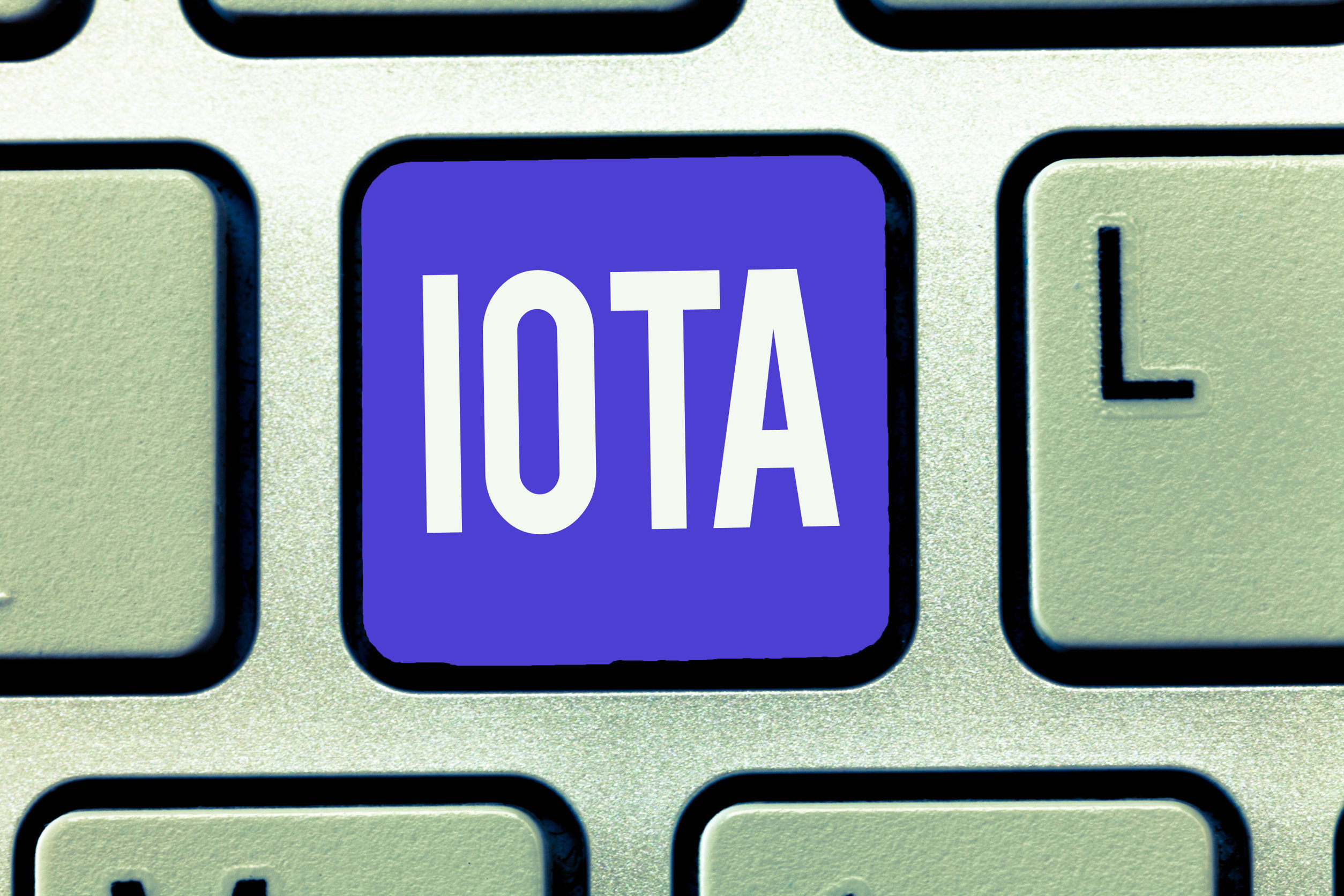 IQ Option
The next option for IOTA is IQ Option. IQ Option doesn't limit itself to only crypto. Through their app or website, you can trade crypto, forex, and stocks all from one easy place.
This is an excellent option for beginners, as they offer a free refillable practice account. This practice account gives you $10,000 in pretend money to trade and exchange as much as you like to learn the ropes of trading. You won't be able to earn anything with this account, but you will be able to learn valuable skills about crypto trading in a completely risk-free way.
Their platform offers plenty of tools to help you make intelligent trades with your currency. They have a News Feed and Economic calendars to keep up to date on the prices of your preferred currencies. You can also set alerts to keep you in the know at all times.
They also offer tools to manage the risk associated with trading. You can set trades to sell at a certain level, or you can protect your account from going into the negative—everything to keep your money safe.
IQ Option is an award-winning platform, praised and respected by other experts in the industry. These awards include the 2017 Award of Excellence, the Mobile Star Award for The intelligent trading app for options trading, and the Century International Quality Gold ERA Award.
eToro
eToro set itself apart from other cryptocurrency exchanges thanks to its social investing platform. This tool allows users to automatically copy the trades of other investors on the platform. If there is an investor that you trust, this can be a great opportunity to not only learn what makes a great trade but to make some excellent returns on your investment.
This platform is available internationally and in many countries, is known for trading not only cryptocurrency but also stocks, forex, and commodities.) The downside to eToro is that if you live in the US, you will only have cryptocurrency trading available. It is also only available in 44 states of the US. At this moment in time, you are not able to use eToro if you live in Hawaii, New York, Nevada, Delaware, or Tennessee. There are plans by the company to expand into its full availability in the future.
EToro has a great app developed that makes it easy to trade from either your phone or your computer. In total, it currently trades 17 different cryptocurrencies.
Like many other exchanges, there is a trading minimum. You need at least $50 in your account to make any trades, and your trade minimum is at least $20. Also, if you want to use the CopyTrader tool, which is a highlight of the platform, you will need at least $200 in your account.
As the user, it is entirely up to you if you want to use eToro's included wallet or your own wallet. The only downside to using your own wallet is that you can only transfer coins to the wallet. You will not be able to transfer coins from the wallet to eToro.
Binance
One of the leading exchanges available for not only IOTA but for crypto, in general, is Binance. As a juggernaut of the industry, it is able to take high-volume trades without a hitch.
One of the leading reasons Binance has been so successful is due to its ease of use and its low trading fees. Binance carries over 180 cryptocurrencies, from the mighty Bitcoin to the most obscure of cutting edge coins coming onto the market.
While Binance doesn't specifically offer Forex trading, you can buy and sell cryptocurrency for up to 40 different fiat currencies.
With Binance, you get some of the lowest trading fees in the industry. When you first sign up, there is no fee at all for making a deposit. When you do start trading, Binance does take a 0.1% cut of your trades.
If you want to lower your fees even more, Binance offers up to a 25% discount on trading fees when you use their Binance coin. You can also get up to 25% off of trading fees when you refer a friend.
Where Binance truly shines is its ease of use. Binance redesigned its platform in 2019 to make trading easier than ever. As a client, you have the option to toggle between basic, classic, and advanced views.
This allows the beginning to make a couple of easy trades without being overwhelmed by information. At the same time, the expert daytrader can have all the tools they need for an IOTA price analysis.

Wide range of cryptocurrencies
Market-leading social trading platform
Market-leading social trading platform
Authorised and regulated by several leading financial
Wide range of cryptocurrencies

Market-leading social trading platform
Wide range of cryptocurrencies
Authorised and regulated by several leading financial
Market-leading social trading platform
Wide range of cryptocurrencies
Authorised and regulated by several leading financial

Wide range of cryptocurrencies
Authorised and regulated by several leading financial
Wide range of cryptocurrencies
PrimeXBT
PrimeXBT is a newer exchange to the world of cryptocurrency, but they hit the ground running, boasting over $375 million in trades a day.
PrimeXBT is available in over 150 countries, though it is not available in the US or parts of Canada. They exchange not only several cryptocurrencies but also some forex and commodity trades as well.
To start trading, at the moment, PrimeXBT only accepts credit cards to make deposits.
Their trading platform offers all of the tools that you might expect from an exchange. Thanks to their robust design and ease of use, their platform can work well from beginners to professionals. However, PrimeXBT does not have a practice account, so beginners may want to either paper trade or learn through another exchange first before putting real money into PrimeXBT.
There are two things that set PrimeXBT apart from other platforms. One, they offer very low fees for trades. As opposed to other exchanges that may offer different fees for different parts of the trade, PrimeXBT opted for a flat rate of 0.5% per trade.
The second thing that sets them apart is their leverages. With crypto assets, you are able to get a 1:100 leverage. The leverage is even higher for some of their forex and commodity trades.
Plus500
Plus500 is a solid trading option for IOTA that has all the functionality a trader needs without all the extra bells and whistles.
This platform deals in not only cryptocurrency but also stock, commodities, EFTs, and forex. It is available in other 50 countries and is regulated by the FCA, one of the main regulatory agencies in the UK. The regulations mean that clients can be sure to find fair market prices from a credible exchange.
To protect their clients, Plus500 offers several tools to keep from massive losses. This can include negative balance protection and stop-loss orders.
There are some downsides to Plus500. Like a few other exchanges on this list, it is not available in the United States. Plus 500 is also notoriously known for having poor customer service.
On the trading side, their WebTrader platform is great for traders who prefer to make manual trades. The upside to this is that there are fewer trading fees than on a typical brokerage. However, traders who use other support tools will find that none of their tools can directly integrate with the Plus500 platform.
Lastly, this is not a beginner platform. There are little to no resources on how to make smart trades or how to read the market trends. Plus500 also lacks much of the functionality found on other platforms.
Plus500 is a great platform for seasoned traders who would prefer a no-nonsense trade without all the extra utility offered in other platforms.
Conclusion
IOTA as a cryptocurrency has been steadily surging this past year, and it has many traders, both professional and beginners, looking to purchase and trade it for themselves. While it may seem like a safe bet, always remember to pay attention to the markets and use all the resources that the IOTA exchanges provide to make the best trades for you.
Beginner traders may prefer to use IOTA exchanges such as IQ Option, which provides a practice mode to trade crypto completely risk-free. Others may choose to use something like Binance, with its extremely low fees and customizable views. Whatever your skill level, pick the exchange that has the tools and trading views that are right for you.
Visit Bitcoin Money for more information about IOTA and how to make the best trades for your wallet.