How to buy Cardano in the UK
Cardano (ADA) is a heralded member of the 'top five' in the Crypto-verse. Like Bitcoin, it is a digital currency, but also like Ethereum, it has a programmable blockchain platform that can enable the launching of smart-contract applications. Founded in 2015, Charles Hoskinson, one of the early developers of Ethereum, started Cardano with the intent of solving specific issues for BTC and ETH related to scalability, interoperability, and sustainability. The Cardano Foundation has oversight responsibility, while IOHK focuses on blockchain development and Emurgo promotes and supports the developer community's launch of specialised apps on its platform.
From time to time, ADA has been referred to as the 'Ethereum killer', since its main mission is to strike at the heart of ETH dominance in the DeFi space. It already employs the Proof-of-Stake mining algorithm, something Ethereum aspires to utilise later in 2021. It, too, has a limit cap on issuance, some 45 billion coins, and fewer than 60% of these were put in circulation when it conducted its initial coin offering in 2017. The price for an ADA token has risen sharply in 2021, setting new all-time highs and solidifying its position as number seven in the rankings on Coinmarketcap.com. Its current market cap in April 2021 stood at $38.9bn.
Where to buy?

Wide range of cryptocurrencies
Market-leading social trading platform
Market-leading social trading platform
Authorised and regulated by several leading financial
Wide range of cryptocurrencies

Market-leading social trading platform
Wide range of cryptocurrencies
Authorised and regulated by several leading financial
Market-leading social trading platform
Wide range of cryptocurrencies
Authorised and regulated by several leading financial

Wide range of cryptocurrencies
Authorised and regulated by several leading financial
Wide range of cryptocurrencies
Why buy Cardano?
Cardano's founder, Charles Hoskinson, literally describes his brainchild as a "third-generation blockchain", with Bitcoin and Ethereum qualifying as first and second-generations, respectively. Cardano's name actually harkens back to Gerolamo Cardano, an Italian mathematician, while its three-letter call sign, ADA, honours Ada Lovelace, an English countess and one of the early computer programmers. Aside from these novelties, however, Cardano means business when it comes to competing with both BTC and ETH and correcting the perceived shortfalls of those two networks.
Cardano has achieved its success by way of its architecture. It consists of two layers, one for settlement issues and the other one for computational conditions, the essence of smart contracts. By separating these two functions, unlike Ethereum's approach, there are fewer chances for bottlenecks to occur. The reconciliation process is also unique for Cardano. It uses a specialised form of a proof-of-stake protocol called Ouroboros, which selects a random grouping of nodes to arrive at consensus rather than the entire nodal network. Ouroboros also enables 'sharding', a process that quadrupled throughput capacity to 1,000 transactions per second.
Cardano also has a goal to assist the world's growing under and un-banked populations with various crypto-related banking services. The project, however, does not have a guiding whitepaper, as do most other crypto programs. However, it is committed to a set of design principles that, simply stated, are in place to improve upon the defects in other blockchain approaches. In this regard, it has focused on such issues as scalability, interoperability, and regulatory compliance.
Several real-world applications have been said to benefit from the products running today on the Cardano platform. Validating credentials for account formation or government grants is one area. The press has also noted how supply chain management can easily trace every step in a product lifecycle from the ground to the table. While these products deal with identity verification and product traceability, the much-hyped services with smart contracts and scalability are still in the pipeline, awaiting launch some time in 2021.
Cardano may have been late to the blockchain game, but it has wasted no time in delivering its innovations to the scene. As many industry observers have noted, the development team "is packed with some of the most respected researchers, cryptographers, and engineers". As for its issuance cap of 45 billion coins, today, 71% of these are now in circulation. Scarcity may also play a role going forward. One ADA is valued at $1.25 in mid-April of 2021, a nearly '7X' multiple from its 2020 year ending price of $0.18. Analysts see $2 to $3 in the future, but when, if at all?
Step by step guide
Cardano is currently supported on over 50 crypto exchanges across the globe. Some of these may accept only other cryptos when buying ADA, but a multitude of brokers have now made it easy to buy ADA on their respective platforms. The eToro.com platform can enable your ADA market entry in five easy steps:
Step 1: Join: Go to the eToro.com website and click the 'Join Now' button.
Step 2: Gain approval. Brokers are required by local law to gather a good deal of private information about you before opening an account. Don't be put off by requests for your personal ID data. Additional profile questions will allow eToro to serve you better. If all goes well, approval usually takes less than a minute.
Step 3: Deposit funds. In order to trade, you must deliver funds to your account. The website will list a number of funding options that are available to you depending upon your country of residence and related local payment methods. The example shown below is for the use of a credit/debit card.
Step 4: Search for ADA. Your desktop screen will list action options on the left column. You may also choose the 'virtual' setting, as opposed to 'real', in order to practice trading. For now, click on the 'Trade Markets' button, select 'Cryptos' on the top of the screen, and then scroll until you come to ADA.
Step 5: Execute your order to buy: Decide beforehand how much of the money in your account you wish to invest in ADA. Click on 'Buy', and the following screen will appear. All that is required at this point is to enter your amount and hit 'Open Trade'. The eToro platform will do the rest. Units of ADA and their value will soon be shown in your portfolio.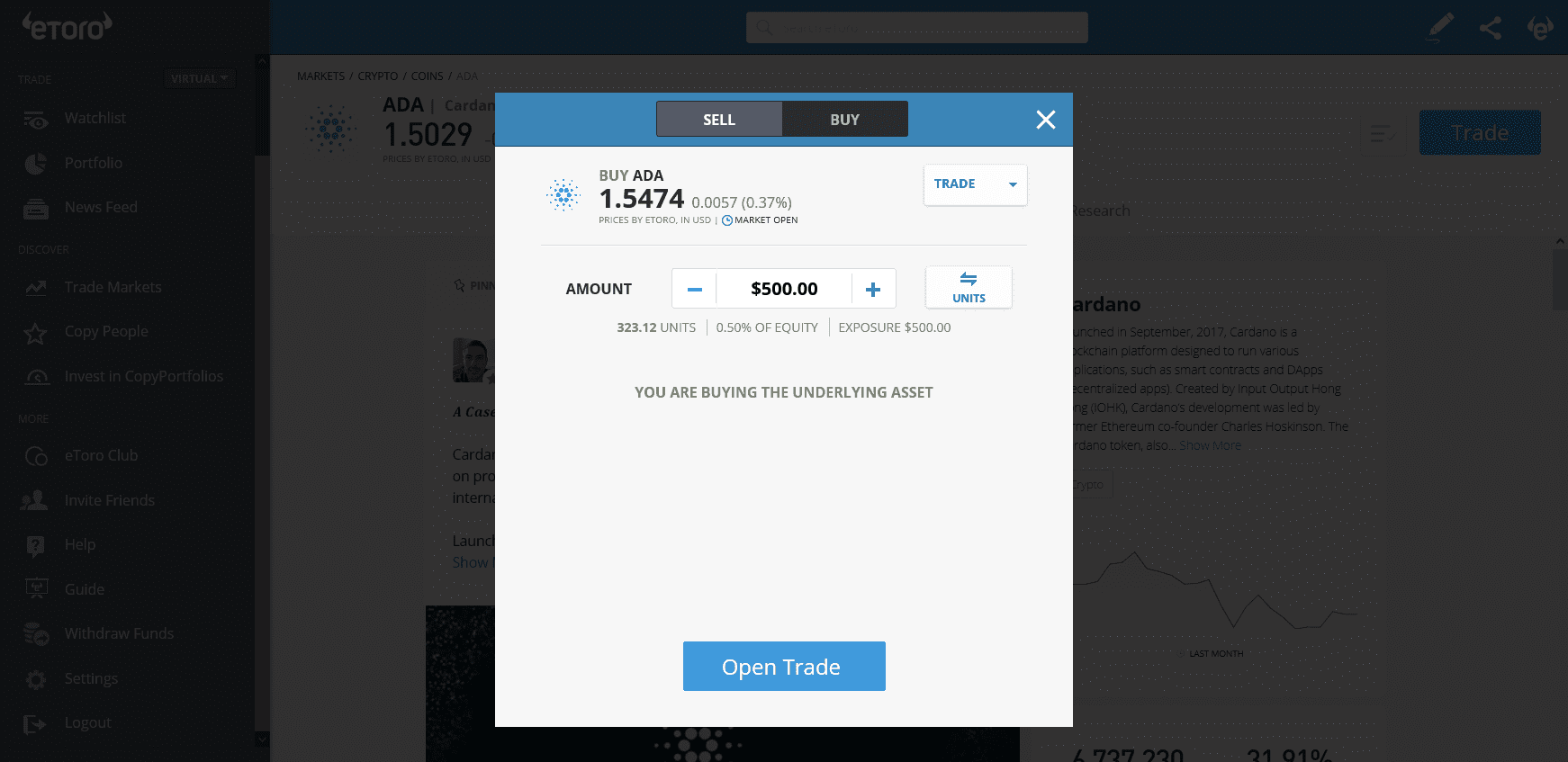 Conclusion
Is now the right time to invest in Cardano? It's never an easy fight to take on the leader in any market. Ethereum has built a major lead and developer following, but there are problems with its current approach. Ethereum 2.0 is supposed to address these, but for now, Cardano appears to have a leg up on technology with its multi-layered architecture. Future development plans for greater operability with other networks could only enhance its market standing.
Can the ADA team leverage this advantage to gain market share on its smart contract rival? The market will be watching this battle closely, knowing full well from history that the best technology does not always prevail. For now, market prices have spiked dramatically in 2021. Investors are confirming their belief that the blockchain battle is enjoined and that Cardano is a worthy competitor to Ethereum. Nearly $40bn in market cap is reason enough to suggest that future prospects are good for this crypto, but it remains a risky bet, as do all cryptos. Prepare yourself mentally for volatile price swings – the hallmark of this industry sector.