Investors guide to buying Dash in the UK
If you are the type of investor that prefers to look beyond the leaders in a market to find hidden value, then Dash might interest you. This cryptocurrency has been around since 2014, gone through several iterations, and now, according to a few analysts, has yet to realise its true value. Are these analysts correct in their predictions? Possibly yes, and possibly no, either answer could be correct.
Bitcoin and Ethereum are highly risky, but when you start delving deeper into the altcoin world, the risk rises at an increasing rate.
Dash can be compared to Bitcoin in many ways. According to its whitepaper, it is described as "the first privacy-centric cryptographic currency based on Bitcoin founder Satoshi Nakamoto's work".
Dash was a result of a 'hard fork' from Litecoin, which itself was a 'hard fork' from Bitcoin. There was an insta-mining controversy in its early days and usage on the Dark Net, which has since diminished, but its checkered past continues to haunt the program today. As these concerns wane, supportive analysts see potential in this token's future. Its rank as of April 2021 on Coinmarketcap.com was 44, and its market capitalisation stood at $2.9bn.
Where to buy?

Wide range of cryptocurrencies
Market-leading social trading platform
Market-leading social trading platform
Authorised and regulated by several leading financial
Wide range of cryptocurrencies

Market-leading social trading platform
Wide range of cryptocurrencies
Authorised and regulated by several leading financial
Market-leading social trading platform
Wide range of cryptocurrencies
Authorised and regulated by several leading financial

Wide range of cryptocurrencies
Authorised and regulated by several leading financial
Wide range of cryptocurrencies
Why buy Dash?
Dash has been around for quite a while in the Cryptoverse and represents an interesting alternative to Bitcoin. Based on very similar programming protocols, Dash operates on two tiers, which is the reason it can perform at a higher level than Bitcoin. One tier is a standard mining protocol, except that, for Dash, a Proof-of-Stake algorithm is used. The second tier consists of Masternodes – nearly 5,000 as of this date – which can perform several functions separately and differentiates Dash from its competitors.
Masternodes must abide by a set of specific rules, one being that a balance of 1,000 Dash coins must be maintained. These Masternodes also act like shareholders, which can approve how the system evolves, but the uniqueness of this structure is that it enables specialised services.
One is 'InstantSend', which can bypass logjams in the mining process. Another is 'PrivateSend', which scrambles transactions in the background to provide users with greater privacy. Processing speeds are said to be 25% or less than that of Bitcoin, which averages 10 minutes per block.
Dash also has within its design a unique self-funding arrangement. Rewards for mining blocks are split by formula – 45% to miners, 45% to Masternodes, and 10% to a Decentralised Autonomous Organization (DAO). The latter group uses these funds for research and development purposes to improve and expand the Dash network proposition.
The so-called stigma attached to Dash goes back to its early days when it was created. It began as Xcoin, with a limit of 18 million coins. Its owners were accused of 'insta-mining' when a total of 1.9 million coins, over 10% of its circulation limit, were dumped on the market. Many developers of other programs cashed out early and departed the crypto scene, but the management of Dash claimed the issue was caused by faulty code in the inherited Litecoin programming source code.
The coin was re-branded as Darkcoin and soon became a chosen source of payment on the Dark Net, due in part to its privacy and anonymity characteristics. As a result, the management in 2015 once again re-branded the coin as Dash and focused on its mission on becoming the preferred digital cash equivalent for payments, especially in economically depressed markets like Venezuela where it has gained traction among the local population. As of August of 2016, Dash has no longer been used on any major Dark Net market sites.
Is Dash worthy of your attention? Investors today have focused on the value protection aspect of many crypto coin programs, but as the future evolves and the payment nature of Dash and other coins garners acceptance, the value of Dash could rise proportionately. As with all cryptos, however, the risk is high, but there is a possibility of high reward.
Step by step guide
Investing in cryptos has come of age. No longer must you deal directly with an exchange. Now you have the convenience of dealing with your favourite online broker, if it like many others, has added a host of cryptos to its platform offerings. One such broker is eToro, which will allow you to purchase Dash, maintain your account, and safeguard your tokens, all in five easy steps:
Step 1: Step one is to open an account. The Home screen for eToro may vary, but it will have a 'Join Now' button, as depicted below. Select it to start the enrolment process. You will be asked for your personal information – a legal requirement for all brokers – and to complete a brief set of profile questions. Approval typically comes quickly.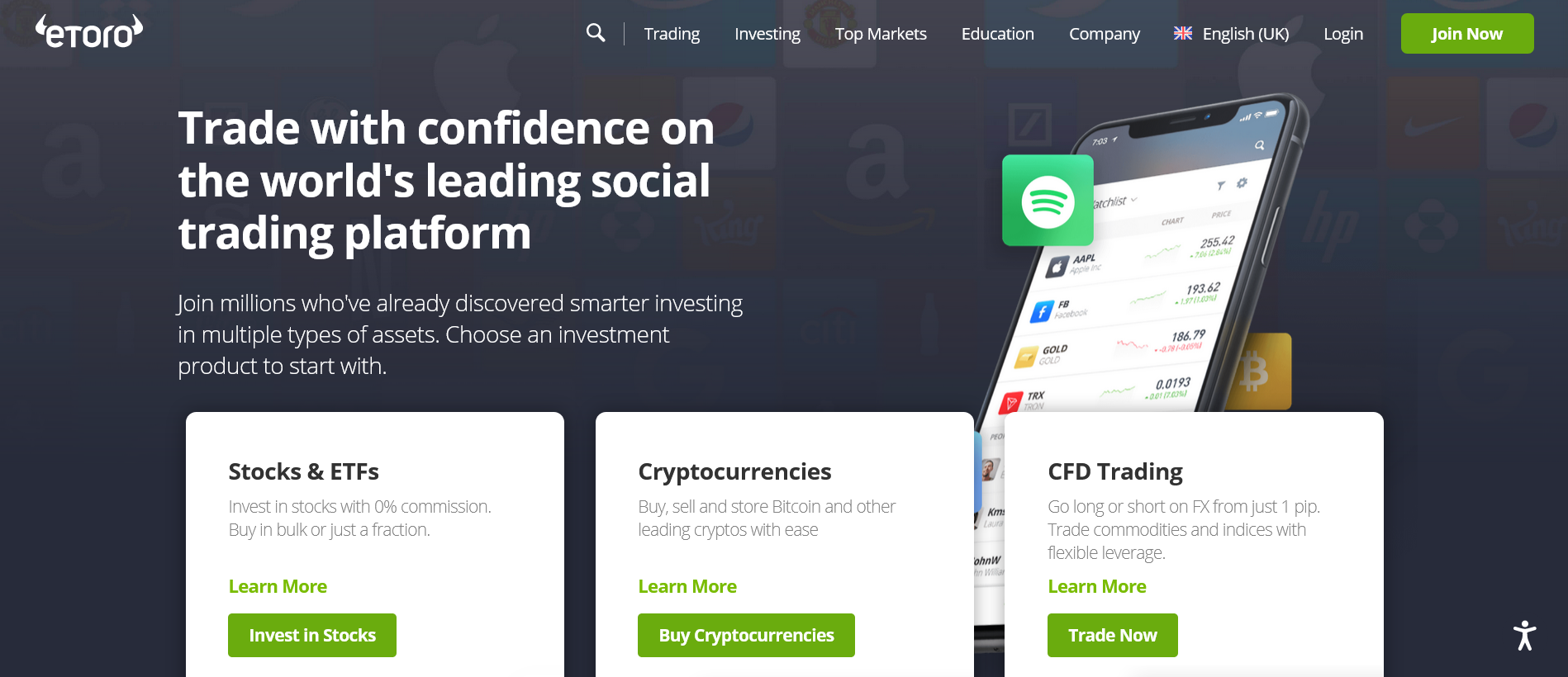 Step 2: Once approved, you will be presented with your desktop page set on 'Watchlist'. If you wish to practice, you may switch to 'Virtual', but Step two requires that you press the 'Deposit Funds' button in order to purchase Dash coins in the actual crypto market.
Step 3: You will be presented with various payment methods for funding. The example shown below is for a credit or debit card. Choose a method and execute the funding order.
Step 4: Once funded, your desktop screen will appear. Step four is to find Dash on the 'Trade Markets' section of your page. On the left side of the page, click 'Trade Markets', then select the 'Cryptos' heading that appears at the top of the screen. Scroll down to find Dash, which is shown here in the middle of the page. Press the 'Buy' button.
Step 5: Lastly, Step five is where you designate the amount of fiat currency you wish to invest in Dash. Press 'Open Trade' to execute your order and deliver an appropriate fractional amount of Dash coins to your portfolio. In this example, 1.73 units of Dash will be purchased. The trading platform will do this calculation for you.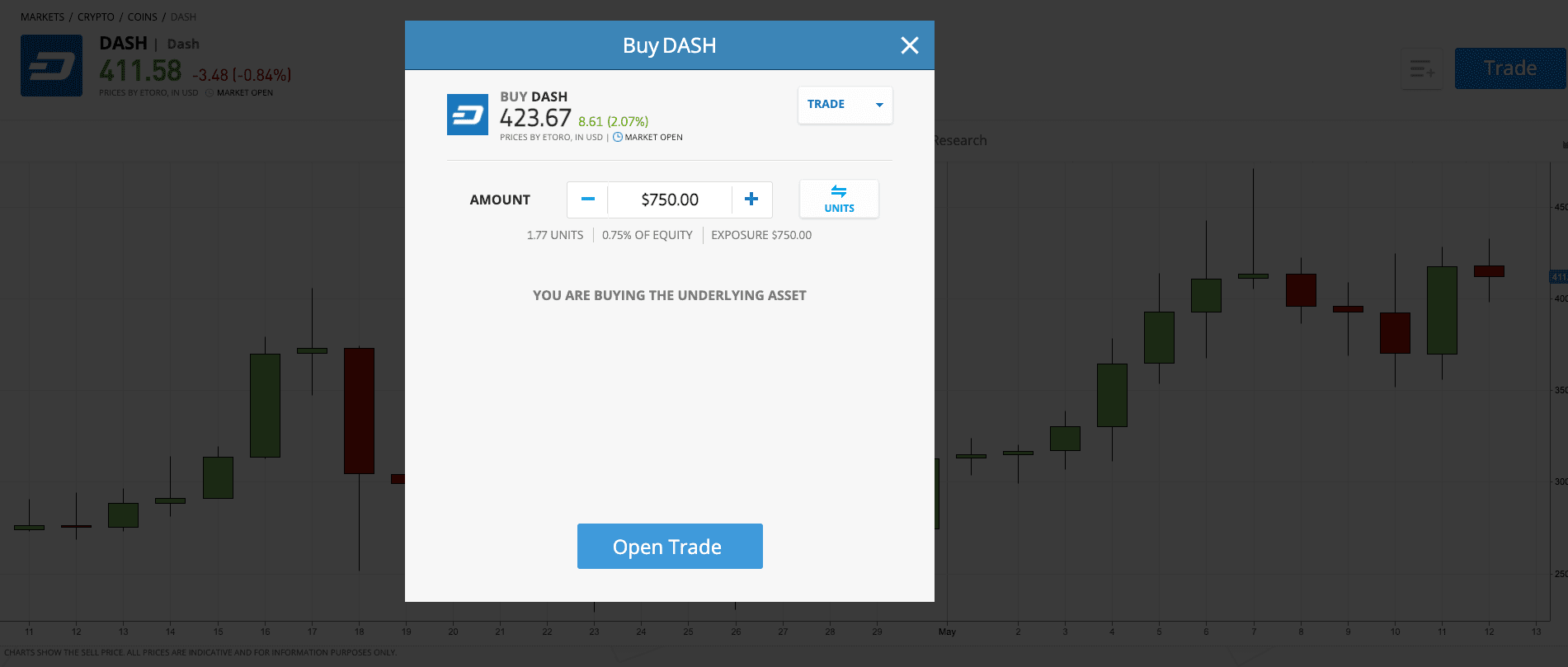 Conclusion
Is an investment in Dash worthy of your consideration? Its stated mission is to be a digital currency that is quicker, more efficient, and cheaper than Bitcoin while also providing more privacy. It has recovered from several bumps along its early path to represent, in the eyes of many, an opportunity that has been undervalued by the marketplace. Its operating blockchain platform does have an edge over Bitcoin, and further adoption, especially in countries with depressed economies, should broaden its appeal and drive future value appreciation.
Investing in Dash, however, is considered very risky. It has its supporters, but it also has its detractors. Its recent price run-up from $100 to nearly $300 in just the first few months of 2021 suggests that a portion of the investment community does believe in this program's business plan. Dash prices will continue to display a high level of volatility – an indication of its risk profile. But if you are willing to risk some capital that you can afford to lose, then Dash might represent a worthy choice.