IOTA Analysis
IOTA is a cryptocurrency project centered around IoT and uses a post-blockchain system for ledger and exchange.
IOTA operates on a network called Tangle. Tangle immutably records the exchange of data and value to ensure that the information is trustworthy. Tangle does not use blocks or miners like the blockchain and most other cryptocurrencies.
Tangle works instead by validating two other transactions whenever you send an IOTA transaction. This makes the system feeless, immutably recording the exchange of data and value.
This allows IOTA to overcome the cost and scalability issues that come with blockchain technology while still ensuring that transaction information is trustworthy and cannot be destroyed or tampered with.
This new transaction system is more scalable and supports frictionless transactions.
IOTA is self-described as being the backbone of the internet of technology (IoT). It uses its exchange platform to bridge human and machine technologies and support the next industrial revolution.
Current IOTA Price Analysis
IOTA is currently priced at $1.36, ranking #48, and has a market cap of $3.8 billion. The coin has seen a run-up from $0.28 since the beginning of the year, with fluctuations following a bullish trend in the cryptocurrency market.
IOTA was created in 2014 and has experienced certain fallbacks in progress since its creation. The cryptocurrency relaunched in March of 2021 after being put on hold. CEO and co-founder Dominik Schiener has spearheaded this rollout with positive progress in 2021.
IOTA price analysis shows positive signals with new adaptations on the way, releasing a beta version of its smart contracts, compatibility with the Ethereum system, and zero-fee transactions.
Smart contracts will give the IOTA network more security and functionality using DeFi and Dows to broaden its usage.
IOTA is expected to gain at a price over the second half of the current crypto bull run if it succeeds in its current efforts.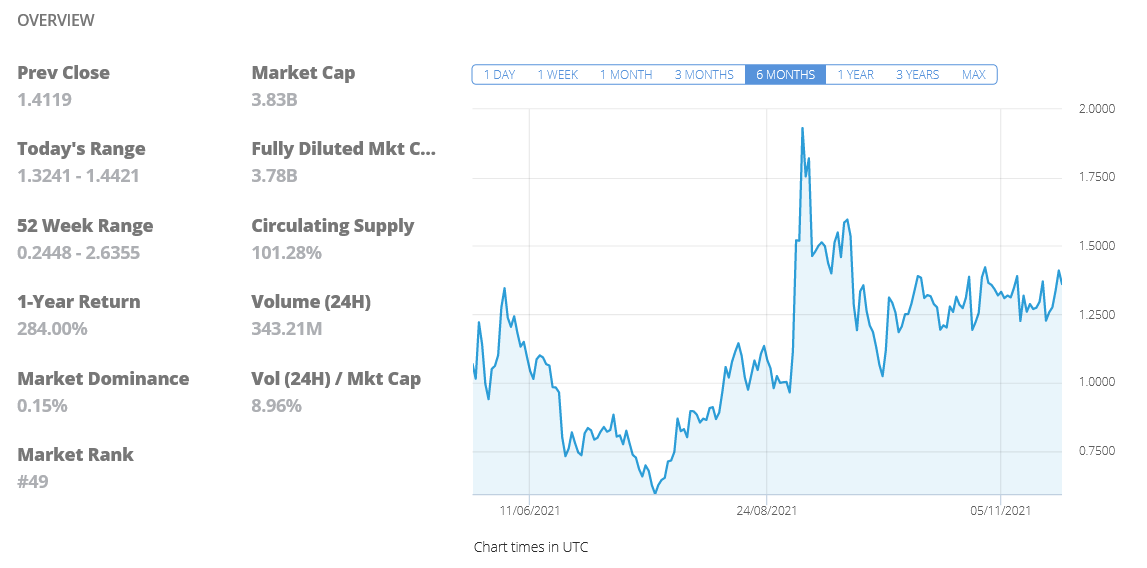 IOTA Crypto Pros and Cons
IOTA has a track record of both pros and cons going back since its inception. It promises big moves forward, and it appears to be doing so with effectiveness.
The token has a critical use case incompatibility with IoT and scalability, among other vital features.
Here are some of the key positive and negative signals the IOTA/Tangle system shows today:
Pros
The emerging IoT market is massive and encompasses almost everything tech and internet-related going into the near future.
IOTA has strong potential to bridge the payment gap needed for IoT-related payments. This sentiment would likely draw attention from big names in the tech industry as well as smaller startups.
There have been a lot of crypto projects that have past claims of creating zero-fee transactions. This process is complicated. Many of these cryptocurrencies became failed or underperforming projects through their development.
IOTA appears to have a zero-fee transaction system that works. This is a significant benefit for crypto when even the biggest cryptocurrencies where fees have become exorbitant.
Transactions secured in minutes
Transaction time is a crucial component of improving cryptocurrency in the future ahead. Aspects of blockchain such as security encryption and reliability begin to pale when transactions do not hold up their end of the bargain.
Offering fast and secure transactions without compromising other aspects puts crypto ahead.
Decentralization is one of the key aspects that give crypto its value and one of the many reasons why blockchain gained a stronghold. A distributed network is a fail-safe against hackers and bad actors and makes crypto tokens more secure and robust.
IOTA is scalable, and the Tangle system is working as it should in this process as a ledger system.
Non-scalable cryptocurrencies and supported blockchains are some of the biggest problems in crypto because as these tokens gain value and usage on exchanges, various problems emerge without scalability. This comes in the form of fees that fluctuate immensely and unreliable transaction times.

Wide range of cryptocurrencies
Market-leading social trading platform
Market-leading social trading platform
Authorised and regulated by several leading financial
Wide range of cryptocurrencies

Market-leading social trading platform
Wide range of cryptocurrencies
Authorised and regulated by several leading financial
Market-leading social trading platform
Wide range of cryptocurrencies
Authorised and regulated by several leading financial

Wide range of cryptocurrencies
Authorised and regulated by several leading financial
Wide range of cryptocurrencies
Cons
Short term TA signals are neutral
It may take time to see if IOTA holds value as a short-term investment. Cryptos tend to go out on a limb without solid and hard evidence or positive news since the market has become so massive.
IOTA has plenty of long-term potential, but investors are looking for current and constant progress if they are going to place a significant sum in a cryptocurrency.
Recent developments unfolding this year and their effectiveness will be a deciding factor for investors in the days and weeks ahead.
Not entirely unique cryptocurrency
Plenty of other cryptocurrencies have made similar promises as IOTA in the past. IOTAs distributed Tangle network does have certain unique qualities and has drawn some attention for being low in fees, with speedy transactions with a block and mining free system.
This may not be enough to capture immediate attention in a market where many ideas have been tried and tested with varying results. The cryptocurrency market is fierce and unforgiving, which is why it takes a certain level of value for cryptos to stay above water in the market.
Reliability and consistency
More information about IOTAs smart contracts and other unique characteristics are still to come. Some of these have been in the works this year as one of their main objectives after their relaunching.
Others have been discussed for a more extended period, while IOTA and Tangle have previously been put on hold. Investors are always looking for forward-thinking features and creative insights in the crypto space.
They hope to get in on the bargain before the value of these tokens takes off into multiple digits. These many features can be challenging to puzzle. Investors have become more hesitant when other cryptosystems in place offer similar value.
Smart contract guarantees
Although IOTA is currently working to support smart contracts, this is still being worked out by the IOTA/Tangle team.
This will be a positive signal for IOTA's price once it is filled out. Current crypto users are looking toward systems like the Ethereum network for the growing smart contract system.
IOTA claimed it might have smart contracts available by the end of 2018, although it fell short of this goal.
IOTA was hacked in November of 2017. This event came at the cost of $4 million worth of IOTA's tokens and was a heavy hit to IOTA's reputation.
The event was the result of a hacker who created a malicious seed generator. IOTA has addressed this issue and continues working to develop a more robust system which they are streamlining.
Many are still skeptical of IOTAs security protocols and will be watching the crypto with a close eye, at least in the short term. Crypto hacks are not uncommon, but they are disconcerting.
IOTAs wallets are also viewed as less user-friendly than many established cryptocurrencies. Users show concern about network vulnerabilities and personal theft of their cryptocurrency.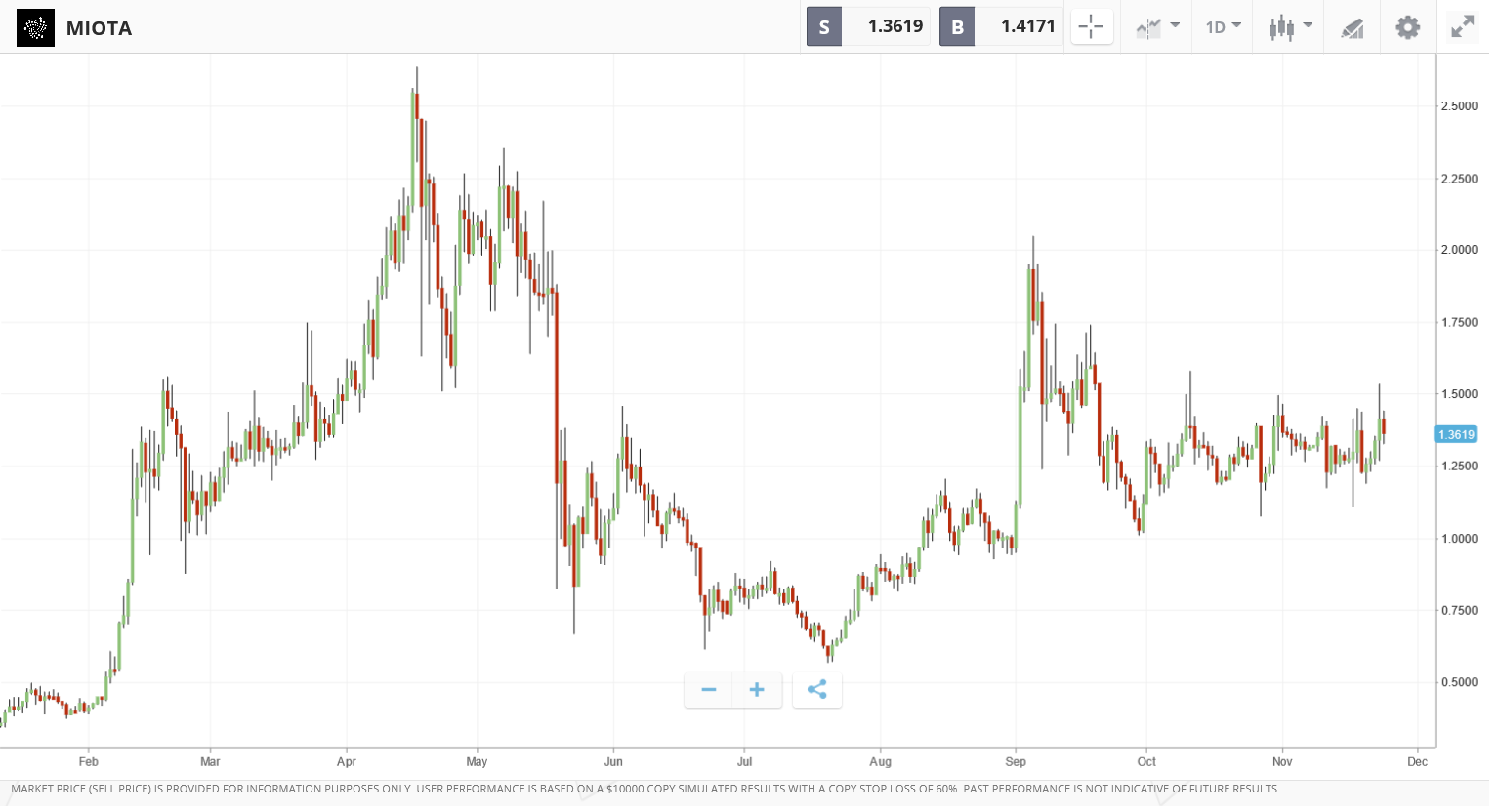 Where to Buy IOTA
Has this IOTA analysis got you thinking of buying? Purchasing IOTA online is simple and easy, although you will need to know a couple of things if you want to do so. You will need to do these three things in order to buy and store IOTA as a cryptocurrency.
Choose an exchange
Exchanges are used to buy and sell cryptocurrency on the crypto market. You can use a handful of different exchanges to buy IOTA crypto through your online device. The most popular exchanges are as follows:
Tormgain
Iqoption
Etoro
Binance
PrimeXBT
Plus500
Purchase IOTA using Bitcoin or ETH
You will need to have Bitcoin or ETH on hand to buy IOTA on an exchange. You can get these tokens by purchasing them on the exchanges you choose using USD.
Purchasing these tokens will give you the equivalent value in cryptocurrency, which you can then use to set up a buy order on your exchange. A simple calculation will show you how much Bitcoin or ETH you will need to buy IOTA.
Just choose how many IOTA tokens you want to purchase and spend the equivalent amount on Bitcoin or ETH, and then exchange them for IOTA.
Choose an IOTA wallet
You will need either an online or offline wallet to store your IOTA after you have bought it. The purpose of a cryptocurrency wallet is so that you can store it outside of the exchange where you bought it.
This improves security and gives you one place where you can store all your tokens. Using a wallet is an important aspect of owning cryptocurrency because it puts the tokens in your own hands instead of leaving them in the ownership of the exchange where you bought them.
Online and offline wallets essentially offer the same features. The main difference is that offline wallets are secure physical devices that store your crypto, while online wallets are not physical.
Online wallets are more convenient and are generally free to use. However, offline wallets offer more security because they are not connected to the internet.
Here is a list of the best wallets that store IOTA cryptocurrency:
GUI light
Guarda Wallet
CoinSpot
Trinity
Bitcron
Ledger Nano S
Nostalgia Light
Should You Invest In IOTA?
This IOTA analysis highlights IOTA's fair share of ups and downs since its inception, leading to inconclusive and contradictory opinions for investors. The verdict is still out on its Tangle system.
The biggest hurdle that IOTA has to overcome currently is regaining investor trust and showing that their new system works as it is designed to. IOTA will have to prove throughout 2021 and into 2022 that the system is capable of withstanding attacks and can deliver on its promises.
The use of a coordinator node is effective, but IOTA has received criticism for its centralization. There are worries that if the coordinator node in the Tangle system is compromised,  this could leave the entire system vulnerable to hacks and fraud.
To resolve these issues, IOTA has promised to eliminate the need for the coordinator node in the near future.Long-term, IOTA holds a strong real-world use case and an innovative approach to the blockchain. The project is bargaining that it will be able to provide much-needed solutions at a time when the IoT world is rapidly expanding. There's no telling if the IOTA project will be able to fully deliver on all its promises, but with an immense amount of potential, it's a project well-worth following.