Can you buy Ethereum on eToro?
Bitcoin may be the market leader in cryptocurrencies and the first crypto that comes to mind in most consumer surveys, but Ethereum (ETH) is a strong number two in market share. Over the past few months, ETH has been outpacing its rival in leaps and bounds, nearly doubling in value while Bitcoin prices remained flat. Investors have discovered that Ethereum is not only a digital currency and store of value, but it also offers more long-term potential than Bitcoin.
By way of its 'smart contract' blockchain platform, Ethereum now dominates the fastest growing sector of the crypto-verse today – the arena of decentralised applications. These 'dApps', as they're known, rely upon smart contract infrastructure, solve real-world business problems and are quickly becoming embedded in the global economy of the future.
Where is the best place to buy Ethereum? For years, the buying of cryptos was restricted to dealing directly with a cryptocurrency exchange. Many of these exchanges were hacked, resulting in billions in losses. An entire market of offline hardware wallet producers subsequently came into being overnight so that consumers could safeguard their crypto assets, but the process is complex and not without risk. Today, the most convenient way to buy Ethereum is through an online broker that offers cryptos. The most highly recommended online broker is eToro.com.
How to buy Ethereum on eToro
The eToro.com website can have you owning Ethereum in three easy steps:
Step 1) Setting up an account
Your first step with eToro, or for any other broker or exchange, is to set up an account.
On the home page, you will need to press the 'Join Now' button to initiate the application process. You will be asked several questions related to your personal identity information, but do not be put off. Government regulations require all brokers and exchanges to obtain this 'Know Your Customer' data. Once submitted, approval can come quickly if the information is entered correctly and verified.
Step 2) Depositing fiat currency
Once approved, your personal desktop screen will appear, as depicted below. In order to invest, you will need to transfer fiat currency to your account. Press the 'Deposit Funds' button, and then the website will present a variety of payment methods, depending upon which ones are available in your country of residence.
Bank transfers are one payment method. Credit and debit cards are another, but your bank may apply additional fees. Decide on an amount, choose a method, and execute your funding order.
Step 3) Buying your Ethereum
Lastly, step three entails executing a 'Buy' order for ETH.
On your desktop, select the 'Trade Markets' tab in the column on the left side of the screen. A list of markets will appear on the top of the screen. Select 'Crypto' to view available tokens for purchase. Ethereum is one of the first assets listed. For other cryptos, you might need to scroll down to find the one you want to buy.
When you are ready to buy, click the 'Buy' button for Ethereum. A market order will appear. Enter the amount of cash you wish to invest, and then press the 'Open Trade' button. The website will perform the necessary accounting functions in the background and then deliver your units of Ethereum to your portfolio. You may view them by pressing 'Portfolio' on your desktop.
Fee levels and spreads tend to be lower with eToro, as well, when comparisons are all-inclusive. Should you wish, with eToro, you also have access to other markets, for example, stocks and foreign exchanges. Switching between markets is easy to do on its one single platform.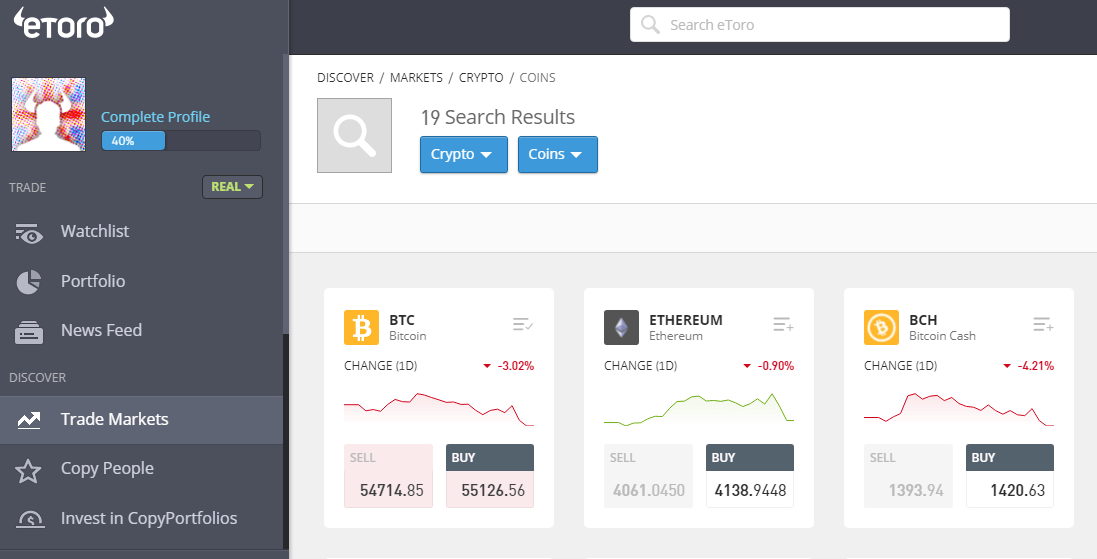 Do you own your Ethereum on eToro?
When you buy Ethereum, eToro actually buys them on your behalf and then stores them in its own secure internal wallet system. Within that wallet system, you will have a segregated account that contains your units of ETH. When you trade or sell these units, the eToro platform automatically moves them from your segregated account, as per your execution order. The process is similar to the internal wallet systems implemented by several crypto exchanges.
Is it safe to buy Ethereum on eToro?
Dealing with eToro is considered safe since it complies with top-tiered regulators like the FCA, CySEC, and ASIC. Your deposits are segregated in Tier One banks around the world, and your personal identity information is protected by SSL encryption. The broker has been in business since 2007 and is valued at close to $1bn. The brokerage is headquartered in Tel Aviv, Israel, but also has registered offices in the United Kingdom, the United States, Cyprus, and Australia. The firm is said to operate in 140 countries and have in excess of 13 million registered accounts.
As for the safety of your purchased ETH tokens, it is your choice whether you wish to rely on the security of eToro's internal wallet system or deposit your units in an offline hardware wallet. If you desire the latter option, eToro also supports an easy-to-use, multi-crypto, secure digital crypto wallet. You can download the wallet app to your mobile device from either Google Play or the Apple App Store. High-level security protocols safeguard against unauthorised access from unwanted third parties.
There are several benefits that eToro brings to the table when compared to a typical crypto exchange. These features include Copy Trading or dealing in Contracts for Difference (CFDs). Also, with eToro, you are no longer dependent on having to transact with one of nearly 400 global cryptocurrency exchanges. These exchanges may offer access to more tokens but are sometimes deficient when it comes to security or ease of use of their respective platforms.
Summary
It's easy to buy Ethereum and other cryptos on eToro.com. From start to finish, a few simple actions are all that are required to begin your adventure in the crypto-verse.