How to buy IOTA in the UK
Just when you thought you understood blockchain technology and what cryptos were about, along comes IOTA and scrambles everything you thought you knew. Yes, its token, MIOTA, is a cryptocurrency, and it does operate upon a decentralised ledger system. Still, it is not a set of sequential blocks, as is dictated within the blockchain universe. Instead, IOTA utilises a system called Tangle, which achieves its purpose of security, transparency, and immutability by entangling several nodes together in such a way as to speed up the process and eliminate the need for costly mining arrangements.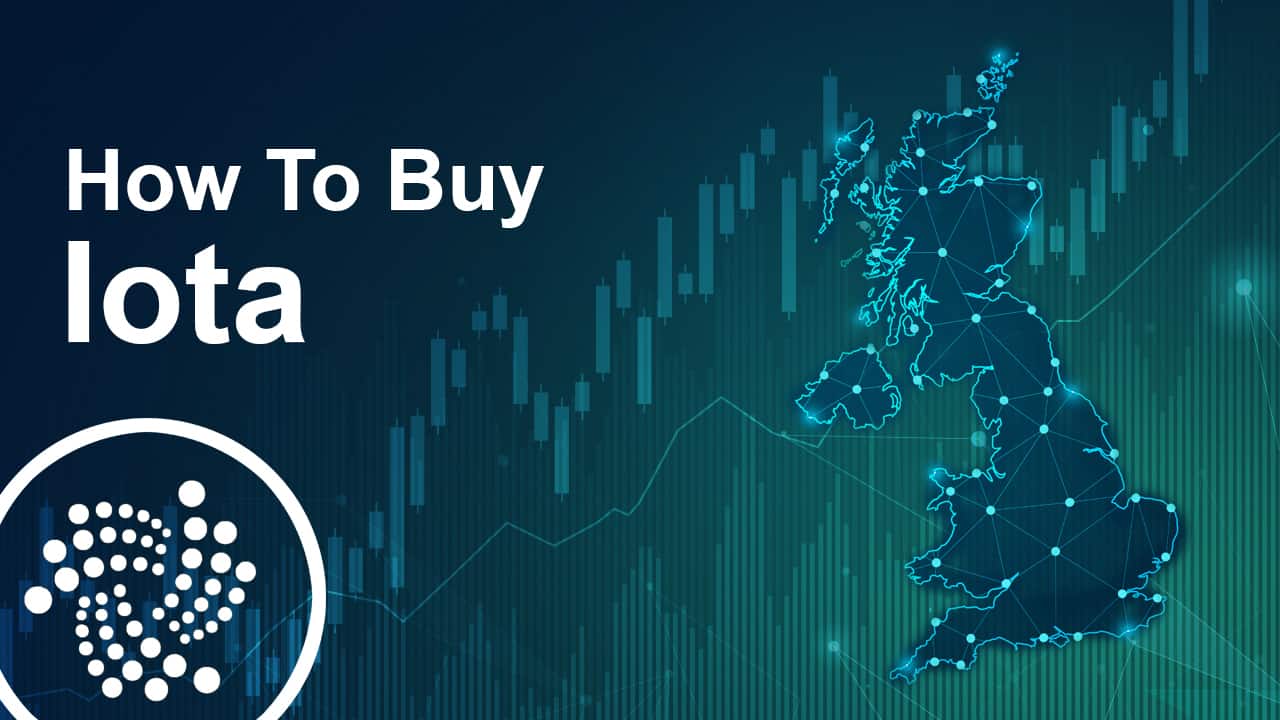 Is IOTA new and revolutionary? Yes, it is, but many of its promised attributes have yet to be tested to determine exactly how it might function when thousands of transactions are thrown at it. IOTA's design attributes attempt to embed the service deeply within the ongoing Internet of Things (IoT) revolution, thereby solidifying its worth in the marketplace. To date, there are said to be nine billion IoT connected devices, with projections of over 25 billion by 2030. IOTA hopes to be the hub for data exchanges and AI automation.
Where to buy IOTA

Wide range of cryptocurrencies
Market-leading social trading platform
Market-leading social trading platform
Authorised and regulated by several leading financial
Wide range of cryptocurrencies

Market-leading social trading platform
Wide range of cryptocurrencies
Authorised and regulated by several leading financial
Market-leading social trading platform
Wide range of cryptocurrencies
Authorised and regulated by several leading financial

Wide range of cryptocurrencies
Authorised and regulated by several leading financial
Wide range of cryptocurrencies
Why buy IOTA?
Are you prepared to invest in crypto of a different colour? It appears from the IOTA price history that many investors have decided to take the risk for whatever reasons. At the end of 2020, MIOTA tokens stood at just under $0.30. In 2021, values surged, then fell back to their current price of $2.23 after profit-taking. The sheer steepness of its rise, nearly a "10X" multiple, is cause for concern. Analysts expect higher values in the future, but IOTA has yet to set a new All-Time-High, which occurred back in the over-hyped crypto era in the 2017/18 timeframe.
What is it about IOTA that makes it so unique? Sergey Ivancheglo, Serguei Popov, David Sønstebø, and Dominik Schiener, who was to join in at a later date, co-founded IOTA together in 2015. Like other cryptos, IOTA is an open-source distributed ledger system. Still, the founders designed this cryptocurrency to mesh well with the burgeoning trend of the Internet of Things. The intent was to build a network that would provide the scalability and extremely low-cost infrastructure that a global IoT would require to operate efficiently.
To satisfy the perceived requirements, the founders created an entirely new and innovative ledger system named Tangle. Tangle is purported to eliminate the need for mining by relying on a node structure that is entangled with other nodes in the network. However, in its current state, a centralised "coordinator" function is required to enable transaction flow. The management team is committed to removing this central coordinating function that is anathema to crypto purists since it represents centralisation and a single point of failure.
The Internet of Things has been a buzzword in the technology world for some time. Once Wi-Fi allowed communication between electronic devices, design engineers immediately envisioned a world where all manner of devices, from sensors to computers, could seamlessly share data, interact, and make processes work without human intervention. Artificial Intelligence (AI) would also play a role, as would IOTA if its platform facilitated these data exchanges and automated instruction sets at low cost.
IOTA does, however, have its detractors, who point to the unusual design and whether it can truly deliver on its stated mission. The Tangle code has already endured security attacks, and digital researchers in Boston discovered a fundamental flaw in the software, which has been corrected. As a result of this negative press, there was disagreement among its founders, and both Sønstebø and Ivancheglo departed the scene.
Is IOTA worthy of your consideration? IOTA does have its critics, who claim that its unusual design is untested in the marketplace, as are most blockchain designs. Will the final design live up to expectations, or will performance issues plague its existence? Even though the IOTA Foundation may want its platform to be the "public permission-less backbone for the Internet of Things that enables interoperability between multiple devices", what is to stop a firm like Amazon from developing its own IoT crypto platform? IOTA does have a first-to-market advantage, but it is still a risky bet, even though $6.2bn of market cap is on the line.
Step by step guide
Due to its uniqueness among other cryptos, the exchange community does not support IOTA like it does Bitcoin or Ethereum. The numbers, however, are growing, and you can now buy IOTA on the eToro website in five easy steps:
Step 1: Opening an account with eToro is easy. Go to the website and start the application process by pressing the "Join Now" button. Be prepared to enter personal ID information. Local law requires that all brokers obtain this data. There will also be general profile questions to assist eToro in providing you with a good website experience.
Step 2: Approval comes quickly, as long as all questions are answered. Your desktop screen can be in "Real" or "Virtual" mode. The latter option will allow you to practice trading, a must in this highly volatile market. To buy, you must first fund your account. In the lower-left corner, select "Deposit Funds".
Step 3: The website will provide funding options that will work in your country of residence. The credit/debit card option is shown here, for example. Review your choices, decide on an amount, and then execute your funding order.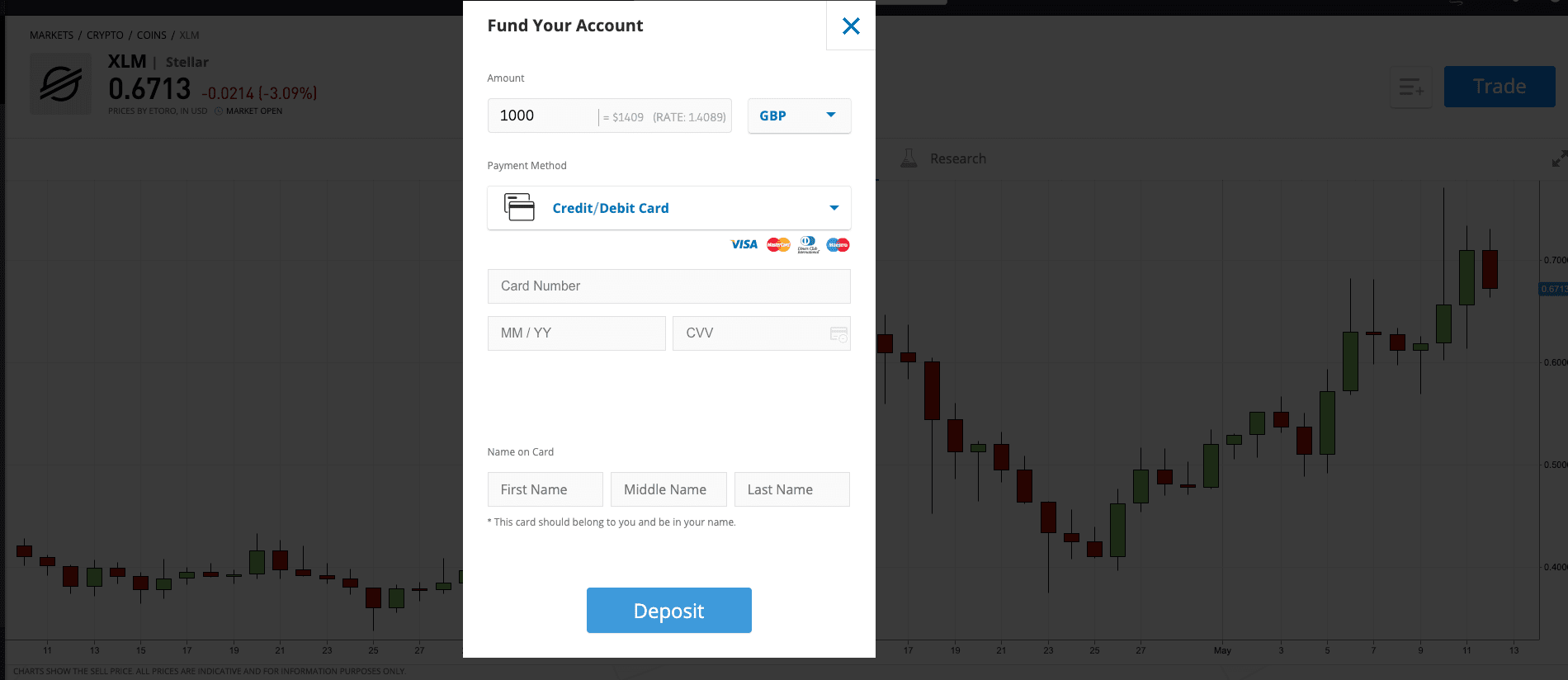 Step 4: Once your account is funded, it is now time to invest. Your desktop lists several functions to the left of the screen. You will want to select "Trade Markets", press Cryptos at the top of the screen when it appears, and then scroll until you find IOTA. When you feel ready to invest, click the "Buy" button.
Step 5: Lastly, enter the amount you wish to invest in the amount box and press the "Open Trade" button. The trading platform will then do the work of executing your order, depositing your units in your portfolio, and deducting funds from your account. The eToro system will also safeguard your tokens for you.
Concluding remarks
Is IOTA a worthy crypto investment? Daily trading volumes are nearly $300m. Its market cap is over $6bn. Investors do like this unique attempt to run innovative circles around blockchain technology and to ride the growing wave of internet-connected devices. If you buy into the hype of the IoT digital revolution and if IOTA has the right tools to become an integral part of this trend, then IOTA could be a good long-term play.
The "ifs", however, are not insignificant by any means. Technology has a way of reinventing itself over time. IOTA may or may not have the secret sauce to cash in big time, but the IOTA Foundation is determined to make a valiant attempt to stay ahead of the curve. The general criticism of IOTA is that its network is still in its immature stages. The jury is still out on whether its innovative approach will stand up to the test of time. IOTA still has a way to go to make new All-Time-Highs, but analysts see potential in the future. Is IOTA suitable for your portfolio? It depends on whether its risk/reward profile fits with your risk tolerance appetite.