Investor Guide to buying EOS in the UK
EOS arrived on the crypto scene with much fanfare in 2017. During its first year in the public eye, Block.One, its administrator, conducted an Initial Coin Offering (ICO) that raised $4.2bn. That was a new record for the time. In so doing, it raised the ire of the SEC for raising so much capital without any of the traditional registration requirements of a typical security offering. Block.One paid $24m in fines and never looked back. The EOS project also raised expectations to a high level, claiming that it would cure the shortcomings of delays and high fees of the Ethereum platform.
EOS also came loaded with a Who's Who list of crypto pioneers and illustrious investors. Bitmain CEO Jihan Wu, Robert Thiel, and Galaxy Digital were a few of the big-name backers of the effort.
Block.One, however, is a private blockchain company that raised the capital, owns a large piece of the action, and developed the EOS.IO protocol, which powers the EOS platform. Daniel Larimer of Bitshares and Steemit fame was its CTO, and he is credited with designing the software with a unique Proof-of-Stake attribute. Despite its promise, EOS has had problems. From December to the present, EOS fell in the rankings from 13th to 26th. Its market cap remains at $5.0bn.
Where to buy EOS

Wide range of cryptocurrencies
Market-leading social trading platform
Market-leading social trading platform
Authorised and regulated by several leading financial
Wide range of cryptocurrencies

Market-leading social trading platform
Wide range of cryptocurrencies
Authorised and regulated by several leading financial
Market-leading social trading platform
Wide range of cryptocurrencies
Authorised and regulated by several leading financial

Wide range of cryptocurrencies
Authorised and regulated by several leading financial
Wide range of cryptocurrencies
Why buy EOS?
If ever there was to be an 'Ethereum Killer', the EOS project seemed primed to earn that reputation. After a yearlong ICO capital raising of $4.2bn, the project seemed destined for greatness. Jihan Wu, CEO of Bitmain and an investor, noted: "The EOSIO protocol is a great example of blockchain innovation. Its performance and scalability can meet the needs of demanding consumer applications and will pave the way for mainstream blockchain adoption".
EOS was launched in 2017 using the Ethereum platform, an oddity since its vision was to become the primary launch platform for decentralised applications (dApps). Block.One, the overseer of development for the project and the firm responsible for raising its initial capital, developed the EOS.IO protocol. It soon made the software open-source in 2018 but continued to promote its use to other entities, not necessarily with a tie to EOS. EOS was also transferred from the Ethereum set up to its own operating blockchain, but problems ensued.
When the EOS team migrated the software to its 'Mainnet' platform, there were delays, and it had to be taken out of service after two days. The software developer, Dan Larimer, is often called the Bill Gates of the blockchain. EOS has claimed that it will be able to process one million items in a second for zero fees, two claims that immediately drew the media's attention and that of the crypto community. Its Proof-of-Stake validation process contains a specially designed 'delegation' feature, which permits for greater scalability. Critics dismiss these claims as unachievable.
The 'no fee' aspect of the EOS platform, a key factor for attracting developers of Dapps since the development process on Ethereum is fraught with high fees and bottlenecks, is also unique. As stated, an EOS developer must own EOS tokens, thereby giving it a stake in the action and the right to use resources in proportion to its stake for no apparent cost. There are hosting costs, which developers must pass on to their clients.
Block.One's unique ICO offering received ample scrutiny by the SEC. The regulator stated publicly that Block.One had neglected essential registration requirements. A $24m fee was assessed and paid. Per the SEC press release: "Block.One consented to the order without admitting or denying its findings".
How successful has EOS been? According to youhodler.com, there are "686 active Dapps now and the EOS Dapps ecosystem saw transactions worth $1.74bn in the first quarter of 2021." There has been some migration from Ethereum, but not the wave everyone anticipated. EOS at present has a significant edge in the gaming industry but has yet to gain a major share in DeFi apps.
Is EOS a worthy investment? Recent news reports have disclosed that Dan Larimer has left the EOS project, a disconcerting message for the EOS community. Market prices did not take a dive on the news, but the price appreciation in 2021 has been muted. EOS is a crypto mystery at present with bold expectations. It epitomises a high risk/high reward scenario.
Step by step guide
Buying cryptocurrency in today's crypto market has become easier with each passing year. You no longer have to search out a compatible and reputable exchange: brokers have joined the fray. In fact, eToro.com can help you buy EOS in five simple steps:
Step 1: Initially, you must open an account. With eToro.com, simply go to the website and press 'Join Now'. You will be asked for personal information in compliance with regulatory requirements that all brokers must follow.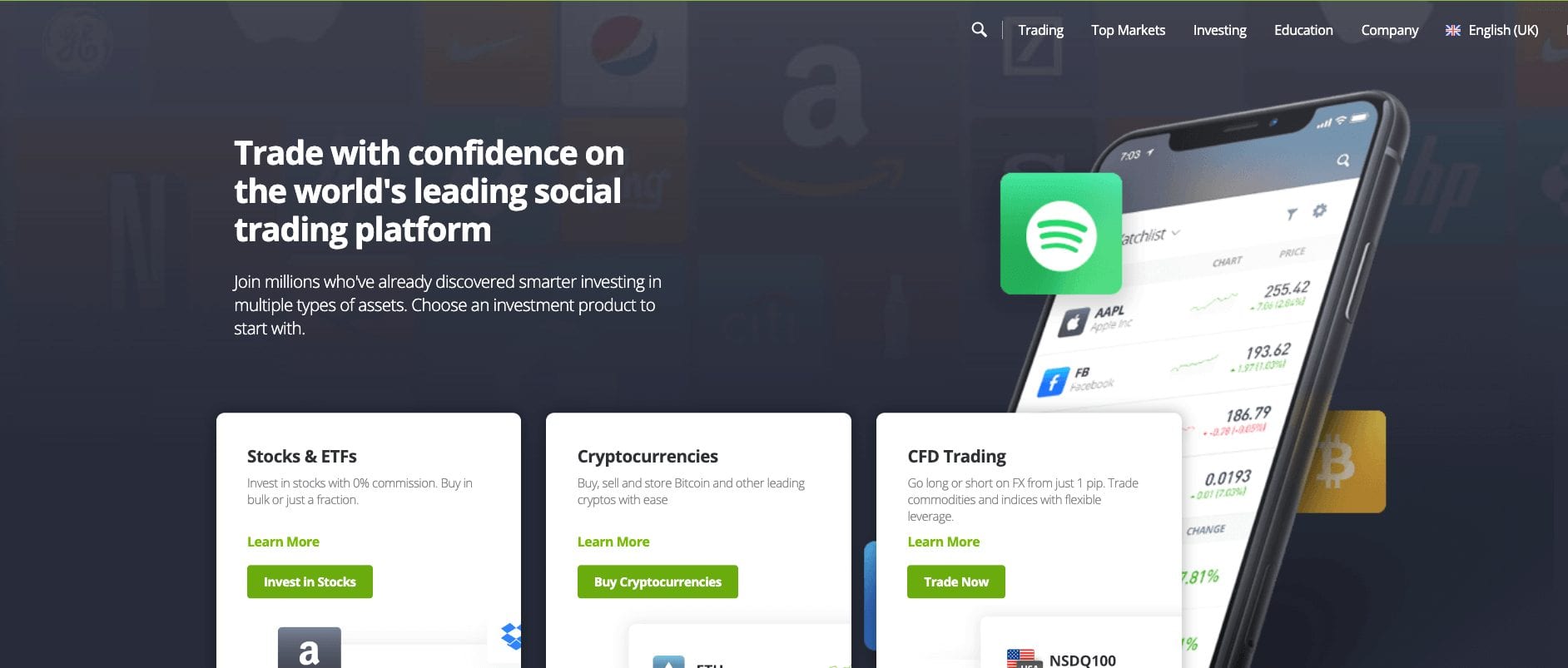 Step 2: Approval will typically take only a minute. Your Desktop screen will appear after login and will be your control base. To buy EOS, you must first fund your account with fiat currency by selecting the 'Deposit Funds' button.
Step 3: Several funding options will appear. Choose what works best for you. The example depicted below is for a credit/debit card. Enter the required information and the amount you wish to transfer to the broker. The website will execute your order. When the funds appear in your Portfolio on your Desktop, you are then ready for the next step.
Step 4: It is now time to find EOS tokens for sale. Select 'Trade Markets', and when it appears, select 'Cryptos' from the top of the screen. You may have to scroll about to find EOS. Press the "Buy" button when you are ready to proceed.
Step 5: The following market order screen will appear. Enter the amount you wish to invest, and then press 'Open Trade' when you are ready. The eToro.com website will execute your order in the market and deposit your units into your Portfolio. It will also safeguard your investment, deduct payment from your account, and perform all calculations for you.
Concluding remarks
Can EOS fulfil its greatly touted promise? Vitalik Buterin, the founder of Ethereum, has been a vocal detractor of EOS. His comment, "this does not seem to actually be safe," was dismissed by Dan Larimer, the CTO of Block.One and primary software designer for EOS.IO. At the end of 2020, however, Larimer left the EOS project. What are we to make of his departure?
The jury is still out on EOS. Supporters continually express concern that Block.One is not entirely behind the project and has conflicting interests when it promotes EOS.IO. It also has a significant stake in Bitcoin, another distraction. EOS was supposed to become the leading "decentralised operating system which can support industrial-scale decentralised applications", but investors are still waiting. Prices have doubled to $5.23 in 2021, but is there potential for more appreciation? If you buy into the hype, long-term forecasts could be in the hundreds of dollars. You be the judge.